Here are 2 great ways to repurpose your content that most online entrepreneurs have not thought about, or at least not thought about in this way.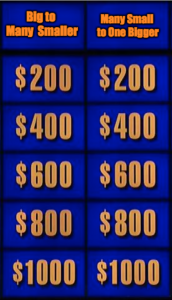 Repurposing Strategy 1 – Repurposing one large piece of content into many smaller pieces of content.
Authors and webinar presenters love this one.
Authors can take chapters, sections and quotes from your books and turn them into articles, videos, course modules, memes, etc.
Think "content from" and "content about" the topic of your book.
Webinar presenters can take bullet points, sections, quotes, etc. and create articles, videos. memes, social media updates, etc.
Consider how many 1-2 minute videos you can repurpose from a 60 minute webinar.
Repurposing Strategy 2 – Repurposing many smaller pieces of content into one larger piece of content.
How about taking several blog posts into a course or a book?
How about compiling several small "live videos" into a video course?
How about combining the 2 ideas above into one course with articles and videos?
Whether you use Repurposing Strategy 1 or Repurposing Strategy 2 you're going to get so much more out of your content this way.
I suggest using both of them! 🙂
Want some fresh ideas for all this content you'll be repurposing? 🙂
Then grab these 21 fresh content ideas below – get my free guidebook right there in the box below