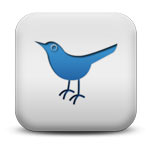 Can you fill up a teleseminar just with Traffic from Twitter? You sure can – read on to find out how.
I remember the first time I did it. I was setting up my next teleseminar. On a whim I sent out the first invitation on Twitter. The sign ups started to roll in. I quickly had several hundred people signed up before I even invited my email list.
Hmmm, maybe I am on to something here. Ever since, I've been experimenting and playing with different strategies for inviting prospects to a teleseminar. Some have crashed. Many have worked. Here are the ones that worked.
A few tips on using Twitter to fill up your Teleseminars
1. Twitter knows first – Invite your Twitter followers first, and use this language: "Twitter know first." I use this all the time and people like the exclusivity of it. You can begin to invite listeners as far out as a week in advance using this strategy.
2. Twitter Traffic – Part of this is mindset. You must realize that when handled properly Twitter is a great source of Traffic. Many people have not gotten this yet. They think of Twitter as just a place to yak it up with friends. And you can do that on Twitter. You can also you it as a tremendous source of traffic for your Teleseminars.
3. Before the TeleSeminar – In the 3 days before your Teleseminar, you will want to step up your invitations on Twitter. You can type in your invitations by hand or use an scheduler like HootSuite.com or TweetAdderNow.com Because Twitter is so fluid, it's important that you invite people several times a day. People are in and out of Twitter all the time, and if you only invite once a day many people will miss the invite.
4. Right Before the TeleSeminar – You can tweet like this: "2 hours until…" "90 Minutes until" etc. As with all your tweets, provide the link to sign up for or listen to the TeleSeminar.
5. The Incredible Power of RTs – RT stands for Re-Tweet, which is when some likes what you have tweeted and repeats for their list. Your Teleseminar invitations can quickly go viral on Twitter this way.
6. During the TeleSeminar – You can set up your "auto-tweeting" tool to tweet during the teleseminar that you are holding it right now and invite people. Your listeners can tweet about what they are learning and invite others as well. This can create a strong buzz and get people on your call.
7. After the Call – After the call, right after and for days after, you can invite people to the Audio Replay of your TeleSeminar. You are recording them, right?
It sounds so incredible I know, but you really can fill up a teleseminar just by using Twitter.