In case you missed the video a few weeks back, here is the transcript from that video about Article Marketing & Duplicate Content:
"Hey folks. This is Jeff Herring, the Article Marketing Guy.  And I've got to tell you, not a day goes by, sometimes not an hour goes by that I don't have someone ask me the question,
"Jeff, article marketing is great. But, what about duplicate content?"
They almost say it as if duplicate content can destroy you.
Now, duplicate content means having the same content in different places on the same website. That's what Google is looking for, that's what they're upset about. But, because duplicate content sounds so scary, here's what happened…
The term came out and people scared everyone with it and then developed this fancy stuff to help you avoid it.
You don't need that. Duplicate content sounds scary, but it's not. It's not like Google is going to come knock on your door and take your computer away because you did duplicate content.
So, what I want to do is provide an answer that you can profit from, give you the definitive answer that can free you up to go use your content everywhere you want to.
So, let's take a look at this fancy little graph I created for you: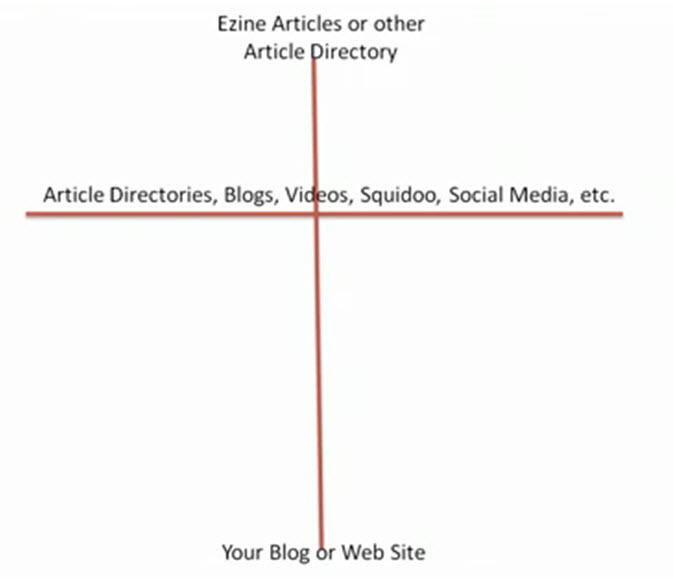 You see two bars, a horizontal bar and a vertical bar. On the horizontal bar are article directories, blogs, videos, Squidoo, social media,  all the places you can put your content.
Now, what I want you to do is focus right up here at the top Ezine Articles or another article directory, and then down here at the bottom your blog or website. If you've got an article, some content, on Ezine Articles or another article directory and that article links back to your website or blog where that same content or that same article resides, here's the thing to remember; those two pieces of content need to be about 20 percent different.
That means if it's a tips article change the order of the tips around, do a different introduction, change a few words in there. It's just 20 percent, you don't have to rewrite your entire article. You shouldn't, it's just 20 percent.
Some people will ask when I say this, "Well, why would I link back from Ezine Articles to the same article on my website or blog?" You don't. It's just if you're going from an article that you have on Ezine Articles back to your blog to say "read something else," or "opt in for something," and that same articles resides somewhere on that blog you just have to make sure those two articles are 20 percent different and you're safe.
What that means is the good news is you can take the exact same article and put it on as many article directories, blogs, videos, Squidoo lenses, social media sites, etcetera, etcetera, as your little heart desires and as you've got time, energy, and team to do. So, take your content, spread it across the internet, increase your reach, build your online visibility.
If you've got an article on Ezine Articles that links back to your blog or website owned by you where that same article resides just make sure they're 20 percent different and you are super safe. Don't let duplicate content and the fear of it hold you back anymore. Get your content out there all over the place and dominate your niche with your content.
…and as always Go Use This Stuff (G.U.T.S!)