So on Tuesday I went public with a little project we've been working on since the beginning of the year: my health!
The first of the year found me creeping back up to 210 – not good.  The scale this morning said 194.2 – I'm liking this.
I so appreciate, and am a little overwhelmed by, the outpouring of support and kindred spirits for Tuesday's post about this journey. Looks like I've got more than a few fellow travelers – cool.
Another cool thing is the absolute FREEDOM that comes with going public with this…
I took a big GULP before I hit the publish button on Tuesday's post – going public really holds you accountable. But I found that it's very much like "burning your boats" – this now has to work. Kinda cool…
I take another big GULP as I share this before picture with you. These are size 40 jeans, and as you can see, they were uncomfortably tight at the time of this picture. The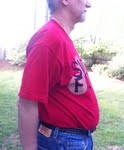 picture really woke me up…and really motivates me. I'll never look like that again. Not for me, and not for those who care about me.
(By the way, despite a few requests, there will be NO Speedo photos…never wore 'em, never will!)
So that's it for today…we are off to the gym. I'll update this adventure a few times a week, along with all the other good stuff you get here – I appreciate your support!
~ Jeff