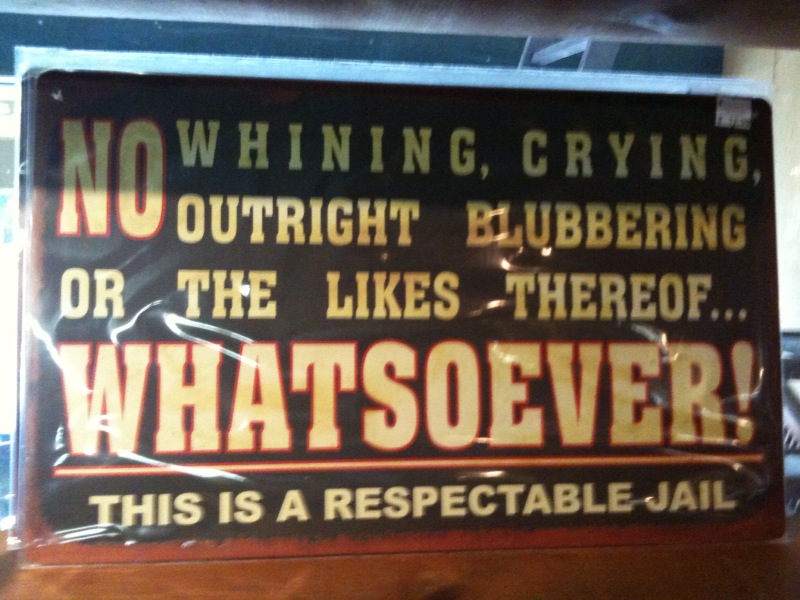 I was not feeling burnt out or especially tired. Just a quiet little voice, as we were getting ready for a 3 day trip to the mountains, that said "unplug, disconnect, get off the grid for a few days" that made us decide to go on this short vacation without our laptops…
You know what, that was the first time I had done that, in like………EVER!  To tell you the truth, it made me a little nervous at first…
Of course, we picked the one weekend that the Southeast is experiencing record rainfalls and flooding. Not that it has been raining a lot, but we did notice animals beginning to pair up two by two…I'm just saying…
The clouds did part for a few hours on Saturday so Maritza, my sons John and Caleb, Buddy the Internet Dog and I got to eat lunch at an outdoor cafe (Indian tacos) and play in the river for a few hours.
The sign above was found in a shop during a downpour on Sunday – as my students and members will tell you,  I kinda like the attitude it delivers…except for the jail part, that is.
Disconnecting was a good thing – a got to clear my head a little, and get clear on a few directions for the future…and eat a lot…and sleep til 9:30 on Sunday, and hang out with humans and other animals I love…
Just might make this a habit…and I'd love to hear how you disconnect and get refreshed!