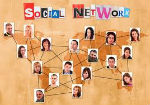 Let's talk a little about the "community" that is built with Social Media. It's interesting how you can become connected with people whom you may never see.
It reminds me of the first "mental health" job I had in college while getting my B.S. degree (yes I see the humor in those letters) in Psychology. I was a counselor with a suicide hotline called We Care in Orlando. You only had the person's voice to go by, and to my knowledge, I've never met a single person I talked with. Well, that is except a friend who called in with a prank one night. But that's another story.
So then it felt normal to me after 20 years in face to face private practice to begin coaching people on the phone.
I still prefer working face to face, and it's a joy now to work with people I coach in seminars as they build their internet marketing business.
So back to this thing about "Community and Social Media". Sure I've connected with old friends through Social Media. That and the competition for "likes" and "comments" on Facebook and other Social Media platforms does give this a bit of a "high school feel" every now and then.
That aside, here are some cool examples of the community feel you can build with both those you know and those you don't know.
A former internet marketing student and now friend and colleague who has done very well recently went through a second bout of pneumonia which hospitalized her. Not a good thing for anyone, and especially not a good thing for a professional speaker. I was able to keep up with her treatment and be part of a large support group from afar thanks to Facebook.
Aimee Copeland, fellow Georgia resident who I do not know and will probably never meet, has fought quite a battle this year. Falling from a zip line that broke over a creek, she cut her calf and contracted a rare fleshing eating disease. Given a 1% chance of survival, she lost her left leg from the hip down, her right foot and both her hands. Recent reports tell us that she left the hospital for rehab and after only 4 days of rehab she is feeding herself and brushing her own teeth. Her fighting spirit and the support of her family and community has been a joy to watch, and a joy to be a very small part of through Social Media.
Those are dramatic examples. Just as valuable and meaningful is the simple sharing in the lives of others in this far flung community.
Another example of this widespread community is sharing in the daily marketing and more wisdom of Seth Godin. A prolific writer and communicator, his writings come straight to my email inbox everyday.
I'll close with something I am constantly reminding you my faithful reader about, because I am constantly reminding myself: the real world is out there, in face-to-face interaction with those we care about… Just keeping this all in perspective…
Article Source: http://EzineArticles.com/7182317