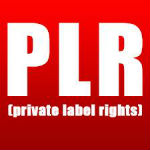 Content Marketing and Article Marketing remain great strategies for creating online visibility, driving traffic, building a list, and creating info products.
And you do want all those benefits in your online business, right?
A Big Trap
One of the biggest traps waiting for those who want to take advantage of all the benefits of Content Marketing is the trap of Private Label Rights content, commonly known as PLR.
A brief explanation: PLR is content created by one or many people that you can purchase and use as is, alter it if you wish, and put your name on it like it is yours.
Here are 3 huge reasons not to get involved with PLR content:
Reason 1: Your prospects are attracted to your voice. Not the audio sound of your voice. What I mean here by "your voice" is the way you approach problems and the way you solve problems.
This is what attracts prospect to you. When you use PLR content you are not using your voice. You might get some content out there a bit easier, but you are much less likely to convert prospects into long term clients.
The best way to build a community willing to follow you is with your own content.
Reason 2: PLR is not "private." You really want to stop and think this through. When you buy a PLR package you are buying a package that anyone else with the funds to buy it can get as well. What that means is your prospect can read the same content with your name on it and then read it somewhere else with someone else's name on it.
Confusing? You bet.
Here's an analogy that might help. Imagine being in a relationship in which you had invested much and that you thought was exclusive. Then one day you see your partner in a restaurant with someone else they are seeing. Pretty lousy feeling, yes? Get the point?
Full disclosure: Some folks say I am against PLR because I teach content creation. You should know that I have turned down hundreds of thousands of dollars over the years from folks who wanted me to sell my content as PLR.
Reason 3: Because of the way PLR is marketed and pushed on the undiscerning, something very important is missed. Let me ask you a question. Back when we were in school, and someone copied someone else's work and claimed it as their own, what was it called?
That's right: plagiarism and cheating.
Do you really want to start off your relationship with a new prospect in such a dishonest way? I know I sure don't, as I look at my prospects as life long clients.
How to quickly, easily and effectively create your own profitable content
To discover how to quickly create your own content, you can claim your Free Instant Access to one of my most powerful Content Creation Templates when your visit http://JeffHerring.com/3mistakescontentcreationtemplate/.
You can also watch a Webinar Rebroadcast where I'll walk you step-by-step through creating your own content with the 3 mistakes template when you visit http://ContentCreationSpecial.com.