PINTEREST MASTERCLASS!

"Point a Pin at It!"
It's Your Secret Weapon for Getting All the High Quality Free Traffic You Want!
The 4 Rules of High Quality Free Traffic
I'm on a constant look out for great sources of free high quality traffic.
Here's the 4 criteria (or rules) of free high quality traffic:
1) Don't chase after traffic
2) Discover where the traffic is already going
3) Get your content in front of where the traffic is already going
4) Then redirect the traffic to your profit pages
And I have found the very best platform that meets and exceeds these 4 rules better than anything I have ever found.
And it's called:
PINTEREST!
Now, IMAGINE...
Being able to create an image with a few words (called a pin) even if you have no artistic ability, upload it to Pinterest, attach a link, and drive so much free high quality traffic you won't be able to stop it even if you wanted to, and you won't want to...
Or as I call it:
"Point a Pin at It!"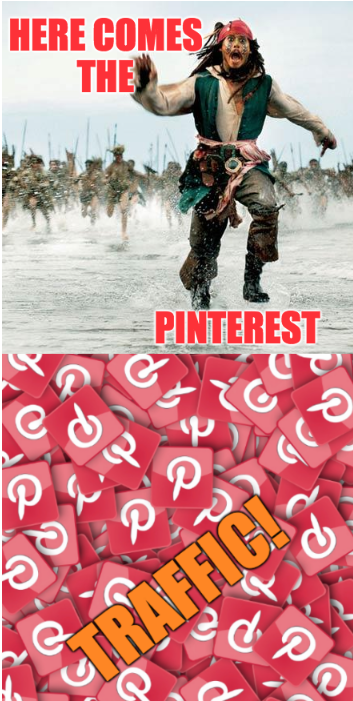 Here is what you're getting in this Brand New MasterClass! - "Pinterest MasterClass! - Point a Pin at It!"
Benefit #1: How You Can Build a Million Dollar Business with High Quality Free Traffic
Benefit #2: Creating Evergreen Traffic Machines
Benefit #3: Why Pinterest NOW?
Benefit #4: Boards, Pins, and TRAFFIC, Oh My!
Benefit #5: How to Create a "Meme-O-Graphic" and Triple Your Results
Benefit #6: Pinterest Video for Massive Amounts of Traffic (in less than 3 minutes)
Benefit #7: Your Next Success Steps!
On the MasterClass!:
When I ask MasterClass! attendees about the greatest benefit they get from these sessions where we train and implement at a deeper level and why they keep coming back, the consensus is this:
"In every session Jeff, you have us create something right in the session that we can use as soon as the training ends!"

On the MasterClass! you'll create a "Meme-o-Graphic" that will triple your results. But that's not all. I'll then show you how you can 10x your results with a special "mini-wizard."
You'll have a marketing asset you can use right away!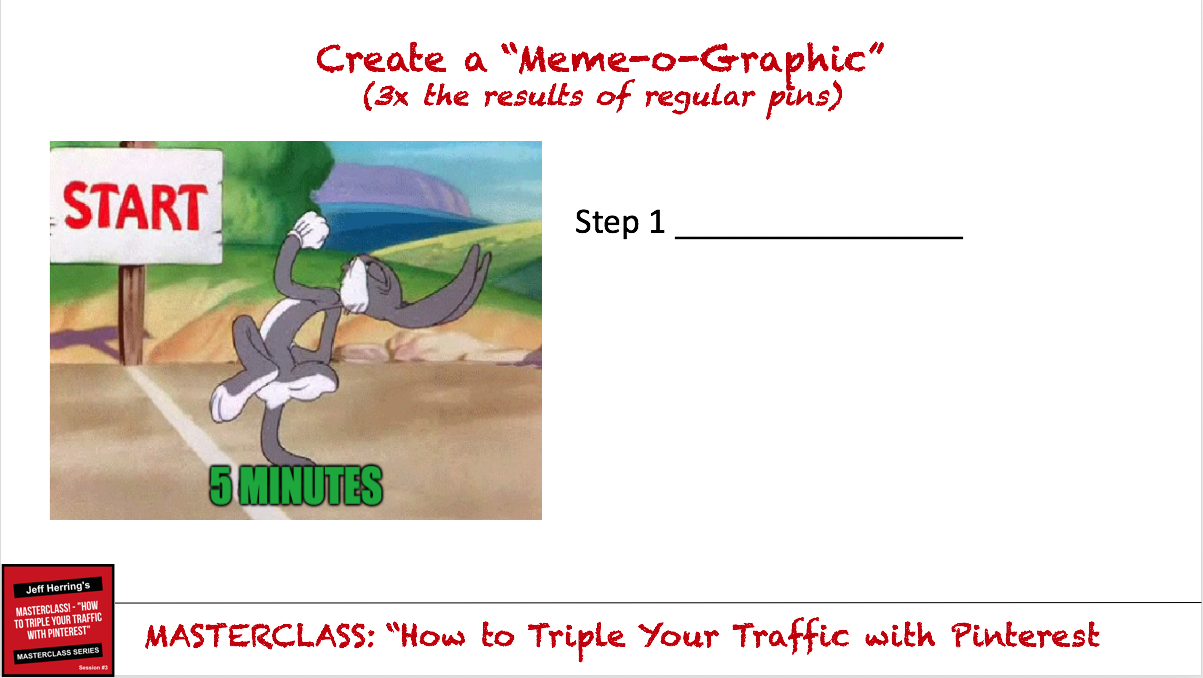 The MasterClass Checklist

The Checklist for creating "Meme-o-Graphics" that get you 3 – 10X the results of regular pins

The MasterClass Video Training

And of course you'll have lifetime access to the video training recordings!

The MasterClass Ebook

You're getting both the unedited transcript and the ebook version – so you can read and underline and whatever else it is you like to do to text 🙂

The MasterClass Template

Fill in the blanks on Meme-o-Graphic Template to create as many sales and subscriber pulling pins as you want!

The MasterClass Facebook Group

Join an international cast of the most generous, creative, and helpful online entrepreneurs on the planet, and get your questions answered, examples reviewed with suggestions, and all the latest updates!

BIG EXTRA BONUS - The MasterClass! "Meme-o-Graphic" Mini-Wizard

Create the most engaging and traffic driving "Meme-o-Graphics" with Meme Mini-Wizard
30 Day Money Back Guarantee
If The Profitable Answer MasterClass doesn't show me exactly how to profitably answer the "What do you do?" question… if it doesn't take me by the hand, step-by-step to quickly and easily get more customers… or if it fails to help me get more subscribers, then I understand that I will receive a full refund, No Questions Asked!