#1 Mistake Made by Online Entrepreneurs:  Making Up Your Promotional And Marketing Plan Each Day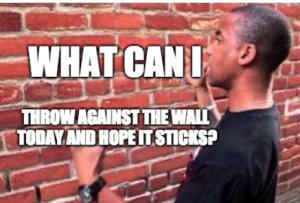 Online entrepreneurs, here's a simple mistake you need to understand – out of confusion and frustration, you throw some marketing against the wall and hope it sticks.
So, here's what this means: when you're making it up as you go along, you become very susceptible to the latest bright and shiny objects.
Don't neglect this because when you make it up as you go along, you're marketing is very ineffective.
My suggestion to you now is to get a daily and weekly customized marketing plan in the 5 Day Unstoppable Marketing Momentum Challenge
http://thejimedwardsmethod.com/5-day-challenge/
This represents just a summary of the mistakes online entrepreneurs make when it comes to unstoppable marketing momentum. With the consequences of ignoring this advice ranging from weeks of wasted effort to throwing tons of money out the window, take the time to educate yourself on the proper methods to know exactly how to market and promote your business each day.
Oh, before I forget, if you really want to know exactly how to market and promote your business each day, this 5 Day Challenge "Unstoppable Marketing Momentum 5 Day Challenge" lays it all out for you! Check it out here http://thejimedwardsmethod.com/5-day-challenge/