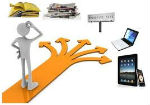 If you can't track it, it don't hack it. Without tracking the results of your marketing, you will never know how to get the absolute most from your marketing dollars.
Do you know the lifetime value of each of your new customers? If the answer is no, then you MUST read on to discover how to track the results of your marketing efforts and expenses.
In your business, you need to have your frontline people ask the questions and document the results. It has to be clear that this is not a volunteer assignment. Make it easy for them with a simple tracking sheet that requires very few entries.
I prefer to use one that uses simple tick marks so it takes a minimal amount of time for the counter people or inbound phone staff to capture that information.
Checking Up and Following Up
You also will need to spot-check their efforts. Just because you tell them they must record this information doesn't mean it will get done.
The $20 Bill
I suggest a carrot-and-stick method. Send a "mystery shopper" into your place. If the counter person does the marketing data capture properly, the mystery shopper hands over a $20 bill on the spot; word will get out that staff should be on their toes. Conversely, if the counter person does not capture the data properly, the shopper hands over a memo in the shape of a $20 bill that tells that person he or she just lost out a nice spiff. Likewise, the word will get out real quick.
For the phone staff, it should work similarly. The manager could have an envelope with a $20 bill in it. Only the mystery phone shopper and the manager would know the secret password. When the phone staff captures the right information, the caller identifies himself/herself and tells the phone staff the password so he/she can tell the supervisor. The envelope is handed over on the spot.
But if the phone staff does not handle the call properly, the phone staff is given a different password. The supervisor hands over a different envelope over with a note explaining that it could have been a $20 bill.
Managing the Untrackable
What if you have a marketing program that has no effective way of being tracked?
First, you need to assess the level of risk in involved. For a local business, if such a program costs $10,000, that would be high risk. If it costs $50, it's low risk.
Obviously, you have to adjust the number for your marketplace and business. For the higher risk marketing ventures that are not traceable, the answer is simple.
Stop it.If you can't track it, don't do it.
On the other hand, if it costs you very little of money and time, and you have a good feeling about it, my advice is the same:
             Stop it.
With limited budgets you can't afford to guess what works and what doesn't.
Only choose those marketing approaches that have the ability to prove their value to you. If it's not provable, it's not valuable.
Bottom Line – You can get Free Instant Access to all 10 of the No BS Grassroots Marketing Inconvenient Truths when you visit http://GrassrootsMarketingBonus.com. And if you like the tips in these Inconvenient Truths, your are going to love Dan Kennedy and his co-author Dan Slutsky's new book "No B.S. Grassroots Marketing: Ultimate No Holds Barred Take No Prisoners Guide To Growing Sales and Profits of Small Businesses." Get your copy here
From Dan Kennedy, the provocative, truth-telling author of seven popular No B.S. books, thirteen business books total; a serial, successful, multi-millionaire entrepreneur; trusted marketing advisor, consultant and coach to hundreds of private entrepreneurial clients running businesses from $1-million to $1-billion in size; and he influences well over 1-million independent business owners annually through his newsletters, tele-coaching programs, local Chapters and Kennedy Study Groups meeting in over 100 cities, and a network of top niched consultants in nearly 150 different business and industry categories and professions.