RESULTS NOW MASTERCLASS!
"How to Create Magnetic Marketing
Memes that Triple Your Results"
It's Your Secret Weapon for Tripling Your Social Media Results!
This is NOT Your Typical Webinar
Listen, let's face it. There's a big problem with most webinars.
First, you've got to sign up. Then you've got to schedule it and show up. Then you gotta listen through great some one is and how you can be too if only... blah blah blah, hoping to learn something, ANYTHING you can use. Then you gotta find the time to learn it, and figure it out on your own...
It's exhausting!
By the end of this Results Now MasterClass!, you will have created your first Magnetic Marketing Meme and then PUBLISHED IT!
If you have any questions, I'm here to answer them, and coach and guide you to the result you want.
When the MasterClass is over, you'll have the result.
And consider this: the more Results Now MasterClasses you attend, the more results you're going to get!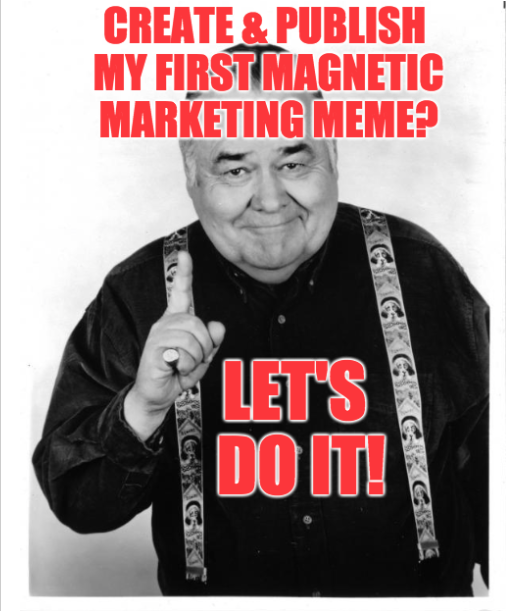 Here is what you're getting in this Brand New Results Now MasterClass!

"How to Create Magnetic Marketing Memes to Triple Your Results!"
Results Now #1: Helps You Create 3x Times More Engagement On Social Media
Results Now #2: Gets You More & More Sales
Results Now #3: Makes It Easy To Capture Your Customers Attention In A Crowded Field
Results Now #4: Gives You More Highly Qualified Subscribers
Results Now #5: Avoid The Most Common Meme Marketing Mistakes
Results Now #6: The Real SECRET For Creating Magnetic Marketing Memes
Results Now #7: How To Create Magnetic Marketing Memes That Triple Your Results On Social Media
Results Now #8: Effortlessly Capture The Attention Of Your Customer With Everything You Do Online
Results Now #9: Quickly Create Magnetic Marketing Memes
Results Now #10: Escape From The Worry And Stress Of Not Getting More Sales And Subscribers
Results Now #11: Discover The Best Way To Create Engagement That Leads To More Sales And Subscribers
Results Now #12: STOP Worrying About How You Can Get Enough Sales And Subscribers To Make A Difference And Stay In Business
AND BEST OF ALL
Results Now #13: Create & Publish Your First (or next) Magnetic Marketing Meme DURING the MasterClass!!
On the MasterClass!:
When I ask MasterClass! attendees about the greatest benefit they get from these sessions where we train and implement at a deeper level and why they keep coming back, the consensus is this:
"In every session Jeff, you have us create something right in the session that we can use as soon as the training ends!"

On the MasterClass! you'll create and PUBLISH your first (or next) Magnetic Marketing Meme that will triple your results. But that's not all. I'll then show you how you can 10x your results with a special "mini-wizard."
You'll have a marketing asset you can use right away!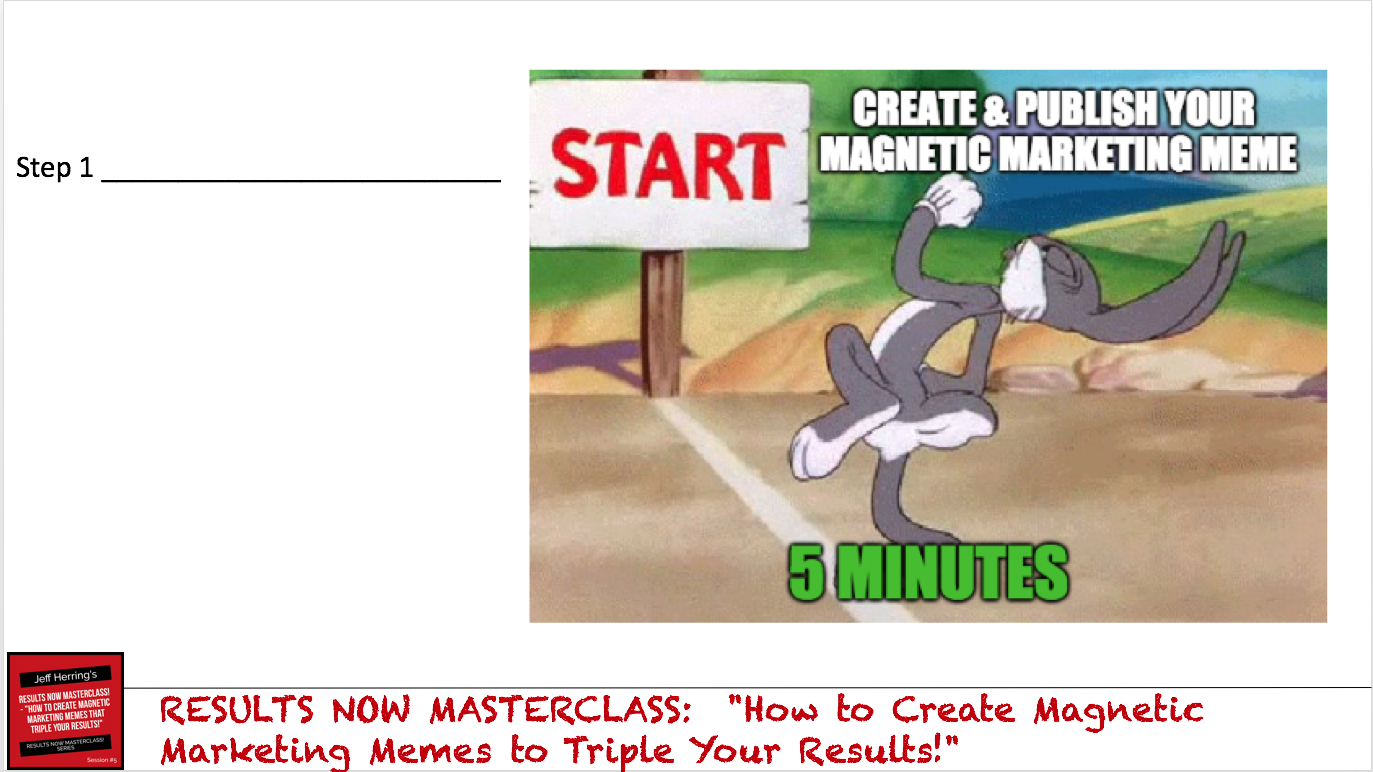 The LIVE Training is this Sunday Night, August 19th, at 8 pm Eastern!
No worries though if you cannot attend LIVE, as the replay will be available the next morning, and all the BONUSES created from the LIVE training within 48 hours...
The MasterClass Backstage Pass

=> Get the entire MasterClass Training for only $37 – regular price $97 – save $60!

=> Be there LIVE for the training

=> Get your questions answered LIVE!

The MasterClass Checklist

The Checklist for creating & publishing your Magnetic Marketing Memes that get you 3 – 10X the results

The MasterClass Video Training

And of course you'll have lifetime access to the video training recordings!

The MasterClass Unedited Transcript

You're getting the unedited transcript – so you can read and underline and whatever else it is you like to do to text 😉

The MasterClass Template

Fill in the blanks on Magnetic Marketing Memes Template to create as many sales and subscribers as you want!

The MasterClass Facebook Group

Join an international cast of the most generous, creative, and helpful online entrepreneurs on the planet, and get your questions answered, examples reviewed with suggestions, and all the latest updates!

BIG EXTRA BONUS - The MasterClass! Magnetic Marketing Meme Mini-Wizard!

Create the most engaging and traffic driving "Meme-o-Graphics" with Meme Mini-Wizard

Only for the first 100 BackStage Passes!

The MasterClass! Ebook

Some of us learn and implement better with text – if that's you, then the MasterClass! Ebook is for you!

The MasterClass Universal Laws List

The Universal Laws for creating your Magnetic Marketing Memes
30 Day Money Back Guarantee
If The Profitable Answer MasterClass doesn't show me exactly how to profitably answer the "What do you do?" question… if it doesn't take me by the hand, step-by-step to quickly and easily get more customers… or if it fails to help me get more subscribers, then I understand that I will receive a full refund, No Questions Asked!