Jeff's Article Marketing Blog Gets Re-Designed!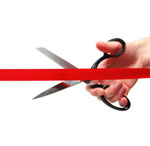 My Article Marketing Blog begins the day with a whole new streamlined design to better serve you.
We are only 25 days past the beginning of the New Year, so I hope it is still safe to say "Out with the old, in with the New!"
Article Marketing is about so much more than writing and submitting articles. In fact, it's a complete end-to-end system for Content Creation, Online Visibility, Traffic Generation, List Building, and Product Creation.
You'll get all of that and so much more as a regular visitor to this blog. In fact, you can join us this Thursday Night for a Brand New Article Marketing – Social Marketing Webinar in which I am teaching powerful insider secrets on traffic generation with Social Marketing and your articles. Click here to register.
And I could not wrap this up with out HUGE THANKS to our redesign team – Regina Smola and Tracy Shifflet – and to Maritza Parra, the driving force behind the entire redesign – you guys done GOOD!
As always…
G*U*T*S
Go Use This Stuff!
~ Jeff Herring
The Article Marketing Guy