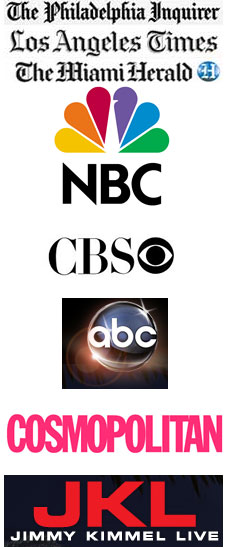 Jeff Herring is a weekly syndicated columnist along with his wife, Maritza Parra. He writes the McLatchy-Tribune "Plugged In" Business & Technology column as well as the "From Single to Soulmate" Relationship column.
So in addition to his regular article writing and content syndication, his social media articles and relationship articles show up in papers such as the Los Angeles Times, the Philadelphia Inquirer, the Miami Herald and more.
Jeff has been interviewed on 107.1FM Florida radio, he's been a regular contributor and guest on CBS morning news, ABC and NBC.
Jeff isn't the only one benefitting from his Article Marketing expertise. His students and clients gain publicity and profits using his methods. A few examples include Felicia Slattery from CommunicationTransformation.com has been published in cosmopolitan magazine. Pat and Lorna Shanks quickly gained fame on the Jimmy Kimmel live show because of social media.
Need Article Writing Solutions for your business? Contact Jeff and his Team.
Below is one of his newspaper articles from 1995 that started this whole wonderful ride…