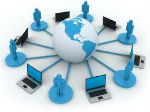 Highly profitable webinars are a great way to educate your prospect, build your list community, and offer your resources without sounding salesy.
And you do want to offer your resources without being salesy, right?
But did you know that there are now at least 4 different types of webinars online? Let's take a closer look at each of these, the ones to do and the ones to avoid.
4 Types of Webinars
1) The Live Webinar – You put together a presentation, invite the world, deliver some good information, and perhaps make an offer at the end.
This is the most labor intensive webinar, as you are live and presenting each time. You can reduce some of the labor by presenting the same webinar to different affiliates.
2) The Webinar Replay – Many marketers will offer a replay of their webinar for a few days, a week, or some other period of time. This is done with the notion that prospects will get the link to the replay by email and schedule a time to watch it.
The reality is that most people tell themselves they are going to watch the replay "someday" and we all know just how often "someday" comes.
3) The "Live" Webinar Replay – This one seems to be occurring more and more,. with the proliferation of automated webinar replay software. The software sets up the webinar to "replay" as if it is live, complete with automated false "social proof" in the form of counters and email addresses of those "attending" the webinar.
Do you know what the term is to describe this? It's called lying.
And so help me understand how it is going to benefit you or your prospect by starting out the relationship with a lie?
This is the type of webinar I recommend that you avoid like Michael Jackson's doctor. It takes a long time to develop a great reputation online, and you risk blowing all on one 60 minute webinar. Not wise.
4) Webinar Rebroadcasts – Here's how we handle webinar replays. Now brace yourself, as this is a little radical. We tell you that it's a rebroadcast when we invite you. In this way everything is on the up and up.
In the system we use there is a Q and A box below the webinar screen. Your prospects can ask questions during the webinar and you can answer them while the webinar is going on or later. I recommend answering questions by the end of the day.
Not only do you get to provide great info to your prospects, you build trust through your transparency with your webinars.
Tell me more about this please
OK, I will. You can learn more about our unique methods for holding both live and rebroadcast webinars for more prospects and profits in our 3 Part Free Training Series when you visit http://6FigureWebinarTraining.com
You'll discover how to create and present your own Highly Profitable Webinars and Webinar Rebroadcasts, and much more.