We are currently at 587 strong and resourceful action taking Fans on our Facebook Fan Page – Jeff Herring Webinars at http://Facebook.com/jeffherringwebinars
FanQuest 1000 is our drive to get to 1,000 fans as quickly as possible. Now if you know me, I'm not going to ask you to do something without giving you something in return. So when you CLICK HERE and "LIKE" our page, here's what you will get:
1) 2 Templates, 1 Audio Replay and 3 Webinar Replays, plus other Surprise Bonuses,
2) You'll get to keep up with our great action oriented webinars, as we will be doing less of our promotion thru email and much more thru our Fan Page,
3) As soon as we reach 1,000 Fans, we'll do a special "Member's Only" Webinar just  for you – full of leading edge strategies, just for you…
So CLICK HERE to "LIKE" our page, get your bonuses and so much more!
See you  there!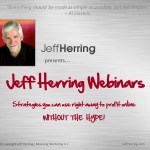 ~ Jeff