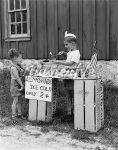 Twitter and the Presidential Debates
I remember when Twitter first began back in 2006. When I heard about it, my first thought was "Who cares what I had for lunch?"
Now it's a major player in Social Media. The 8th most trafficked site online according to Alexa.com
Yet and still, I was a little surprised to hear that Fox News was partnering with Twitter for the Presidential Debates.
It turns out that for all of the 2008 Presidential Debates there were only about 100,000 tweets. For the 2012 Presidential Debates there were more than a million tweets before the first debate.
Fox News kept a running tally on screen of number of tweets per minute during the debates. There were 110,000 tweets per minute during the last debate, totaling more than 6.5 million for during the broadcast.
I guess there is more to Twitter than what you had for lunch, huh?
9 Year Old Entrepreneur
One of the many benefits of living several miles north of Atlanta is being just a few miles away from the beginning of the Appalachian Trail. It's a great place to be outdoors, get some exercise, and see so much beauty.
One of the beautiful things we found on one of the roads that cross the trail is an incredible 9 year entrepreneur. She set up a lemonade stand in her driveway that fronts one of the main roads.
Excellent lemonade for $1. Our most recent trip included my two sons and me. We spent $20 on this stop at the lemonade stand. If you are doing the math, 3 lemonades at a dollar each comes to three dollars, right?
So how in the world did we spend $20? The short answer is because this 9 year old girl is a great entrepreneur. In addition to fantastic lemonade, she also features copies of her 15 year old sister's CD with 3 songs recorded in Nashville. Five bucks for the CD. Also featured are bracelets she has designed for $5 each.
So 3 lemonades for $3.
1 CD for $5.
2 bracelets for the boys for $10.
Extra 2 bucks as a bonus for a great young entrepreneur comes to 20 dollars.
Wonderful experience and great example for our sons – you guessed it – priceless.
Ready to become an online entrepreneur? You are going to need to be able to create content that converts into prospects and profits.
To get started, you can claim your Free Instant Access to 2 of my Instant Content That Converts Templates when you visit http://JeffHerring.com/2contentcreationtemplates