Creating Magnetic Memes – Here's why I'm so passionate about this new strategy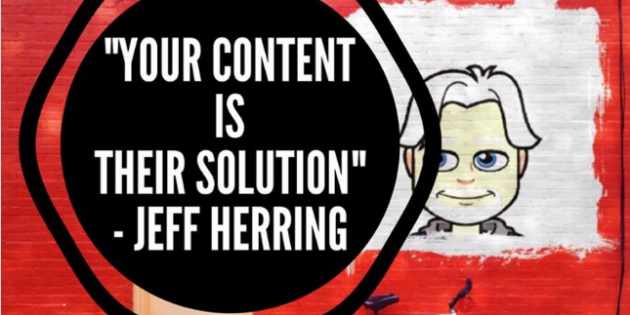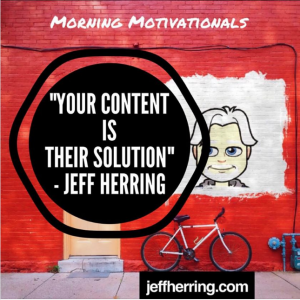 "Your content
is
their solution"
– Jeff Herring
Here's why I'm so passionate about what I do:
When you help someone solve a problem with your content message, at least 3 great things happen:
1) You're Happy – Your content changes lives for the better. Whether it's how to have a closer relationship or how to catch more fish, you and your content make a difference.
And you can be be very happy about that!
2) They're Happy – Think about how you feel when I problem gets solved. You're happy. And you're happy about the person who helped you solve it too.
3) The World is a Better Place – That's a pretty good out come for creating and publishing little nuggets of good stuff, isn't it?
So what's a Magnetic Meme?
A Magnetic Meme is a strategy to publish your problem solving, life changing content in a fun and magnetic way that gets the attention of your prospect and gets them to take action.
The Magnetic Meme above is a bit fancy, but it only took 3 minutes to create, and the traction and reach I'm getting by creating one a day is greater than I thought possible.
And you don't have to just take my word for it
Here's what one of my students, Doug Golinski, has to say:
Excited & Committed
Some say I'm so excited I should be committed…;-)
I'm so excited and committed to this I'm taking our first group
of members and creating a "mega-case study" from which
you'll get even more – including you and I creating one of your
Magnetic Memes together.
Because of that, I can only take 10 more today, and 10 more
tomorrow, and then we're full for a bit.
Here's how to get started
And the Replay awaits you here
You'll get a full training on Magnetic Meme Marketing, featuring these 2 highlights:
1) A LIVE DEMO – how to create "many magnetic memes in minutes!" (without creating the copy yourself?)

2) Your Magnetic Meme "Genius Tip" – The "Whack It – Bracket – Stack It" System for Maximum Meme Impact!
And as if that's not enough, So. Much. More!
Then join our Magnetic Meme Marketing Community
Here's what you're getting:

Click here for the great low investment – ONLY 11% of the Total Value!
#MemeOn!
~ Jeff
10 PS – There are 10 slots available today