ARTICLE
Profitable Content Creation – Why My Best Students & I Create Content Daily (You Should Too)
Why in the world would you want to create content everyday?
Content Creation and Marketing are still the best approach to building an online empire, big or small. I am constantly asked why I create some kind of content everyday. Here is my answer:
Why I (And My Most Successful Students) Create Content Everyday
Content creation allows you to unleash your content and make a difference in the lives of those you are called to serve.
In a minute I'm going to reveal one of my biggest secrets about the connection between content creation and product creation. But first I want to tell you about the 5 things you must have to be successful online. There are 5 things you need to be massively successful online in any niche. These five pillars of success are:
Content Creation
Online Visibility
Traffic Generation
List Building
Product Creation
The cool thing about creating some kind of content each day is that it takes care of the first of the five, and sets you up to easily accomplish the next four pillars of online success.
I guess you could call content creation a magic button because it makes Online Visibility, Traffic Generation, List Building and Product Creation so much easier.
Let's Take a Closer Look
Online Visibility – You don't have to be found all over the Internet, and you can't afford to either. The good news is you just need to be found all over your niche. When you create and market your content you will be found all over your niche. This leads to you being the go-to expert in your niche, the one people think of first.
Traffic Generation – When you market pieces of your content online and include a link back to one of your web properties, you are driving highly qualified traffic. It's relatively easy to get in front of where the traffic is going and then redirect it exactly where you want it to go this way.
List Building – When you include a call to action at the end of your content, your list will grow. And grow with people that have spent enough time checking out your content to want more from you. This eliminates the tire kickers and brings you highly qualified prospects.
Product Creation – In my model when you are creating your content you are also creating your information products. This is one of the secrets to how I and my students can be such prolific creators of products and resources.
Bonus Tip – When you create content everyday you will watch your confidence soar.
---
VIDEO
---
WEBINAR
---
RESOURCE
Here's what we've got for you:
The 5.0 Version of Profitable Content Creation Templates is the by far the best easily affordable resource I've ever created.
Inside your new Member's Area you will discover:
21 Profitable Content Creation Templates designed for you to create prospect & profit pulling content for your blogs, articles, social media updates, marketing messages, information products and much more, all in 20 minutes or less!
Each Template Module contains a template graphic and instructions on using the template, a video of Jeff creating content with each template, an example of Jeff's content using each template, and an example of one of Jeff's best students using each template
Bonus of 21 Prospect & Profit Pulling Ways to Repurpose Your Content
Bonus of a Strategy Session with Jeff
Here's what Profitable Content Creation Templates 5.0 will do for you:
Allow you to create all the powerful prospect & profit pulling content you will ever need – content for your blogs, articles, social media updates, marketing messages, information products and so much more…
Create prospect & profit pulling content in 20 minutes or less
Never stare at a blank screen again – no more blinking cursor syndrome!
Create a strong web presence – you'll soon be hearing "I see you everywhere!"
Attract ideal client traffic – so much traffic you will not be able to stop it if you wanted to, and I can assure you that you will not want to…
Gain the confidence & certainty of being able to create prospect & profit pulling content whenever you want or need it…
What to do next:
Choose your option to come on board:
Option 1: The best deal – one payment of only $197 for all this and all the bonuses – a webinar special for a regularly priced $497 resource.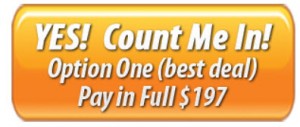 (Paypal Full-Pay Payment Option CLICK HERE)
Option 2: Need me to finance this for you? Choose 3 payments of only $77 each. Do what I tell you to do in this program, and you'll not have to finance a resource like this again…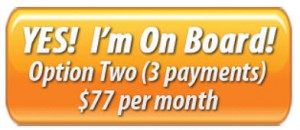 (Paypal 3-Pay Payment Option CLICK HERE)
---