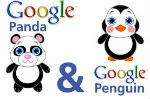 Has Article Marketing Finally Been Killed By Google's Panda & Penguin Updates?
As you know, I have been doing online article marketing since 1996 and have used it to generate tons of high quality traffic for my online and offline businesses.
Strange as it sounds, every time Google has made a change to its search algorithm, experts (and others with black hat purposes) have trumpeted the death of article marketing.
Don't know why, but they have. (Well, yes I do know why, but that is a whole other article.)
It's good news for me though. Every time Google improves its search algorithm I make more money (and so do my students). The most recent time they did this was the Panda and Penguin updates.
Why is Google always changing?
The reality is, Google is starving for good content. Google is in the business of bringing searchers exactly what they are looking for, every time they search. That is their core business. If that goes away then The Google business dies.
Google wants excellent articles (and other content) at the top of its rankings. This is why it updates its algorithm so much. Google is trying to get more accurate in pinpointing the good content. Good article marketing helps Google find and deliver better content to searchers.
The Penguin and Panda updates aimed at getting rid of duplicate content and other "black hat" techniques. This is good news because it means that original content that is up to date and relevant will be more highly ranked since it is competing against less crap.
Google Needs Your content
This means your investment in creating high value relevant content is going to be rewarded. The marketers who are being punished are the ones looking to take a short cut or game the system.
So Is Article Marketing Dead?
From the game the system point of view, yes! Article marketing that offers no value to the reader is dead.
Google has been working very hard to kill it the entire time it has been in business.
The Great News
Article marketing that delivers relevant useful content to the reader is becoming more and more essential.
Bottom Line?
The Pandas and Penguins cleared out he crap for us, so the cream could rise. And I'm assuming since you have read this far that you are part of the cream, or want to be part of the cream, right?
For us (the cream) the good times are rolling
For those of you who want to join the good times, then I have a special gift to help you do just that.
You can claim your Free Instant Access to one of my best Irresistible Content Magnet Templates when you visit http://JeffHerring.com/3mistakescontentcreationtemplate