Are you a coach who is tired of working very hard to promote your coaching, but you are still  always wondering where your next client will come from?  Maybe you're struggling to decide how you can stay in the field if you don't get more income.
If so, you're not alone—hundreds of coaches are dealing with the same problems in their coaching businesses.  And yet, you may know other coaches who seem to effortlessly market themselves and have plenty of high paying clients.  Perhaps you know coaches who have built relationships with the media or other influential people who seem to provide them perfect clients.  Those coaches may know some of the best marketing tricks that can make all the difference.
Sign up here!
You can join the ranks of successful coaches who do know how to market their businesses to full advantage.  The Easy Biz Telesummit:  Summer School for Coaches is a series of free telecalls to help you learn just that.  I am joining with some of a group of the other business experts in coaching and each of us will be sharing our best ideas for what makes marketing EASIER.  This "Summer School" will be in session from July 11th to the 14th and it could be the best "class" you have ever taken to teach you how to build your business and attract all the well-paying clients that you need.
Sign up here!
Here's just part of the lineup who will be joining me as speakers on the Easy Biz Telesummit: Andrea J. Lee, Michael Port, Kim Clausen and Michelle Schubnell. The entire group is 12 experts dedicated to helping you avoid the kinds of mistakes we made early on and ready to tell you exactly what you need to know to succeed today.  It's rare that this many of the top busine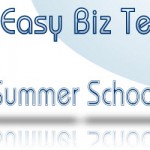 ss leaders in coaching join together to focus on your success.  It's an event you WON'T want to miss!
You'll want to see the full line up of 12 coaches who are business experts and get your seat right away.  Don't miss this Telesummit that is sure to make YOUR life and business easier… sign up now!