The biggest question I get from beginning Article Marketers is "How do I write a good article?"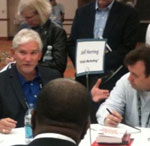 Article Marketing requires content creation – and you need strategies for fast and effective article creations. As you know, I've got many resources to help you do just that.
You can check out Rapid Article Writing Strategies – Top 3 Strategies for Creating Content (Whenever You Want or Need) or to get started for the lowest investment possible, you can check out Article Marketing for Beginners. One for free, and one for a very small fee.
As you know, one of the things you do when you go "an inch wide and a mile deep" into your niche, (as I always encourage you to do) you spend some time each day researching online to see what other folks are suggesting. Then I bring the good ones to you here on the blog.
A good breakdown of how to create articles can be found in Steve Shaw's "How To Submit Articles: What Should An Article Look Like?" He does a good job of using a graphic to illustrate the article title, article body and article resource box. Here's a point I strongly agree with:
Your article topics should teach valuable information on your general niche, rather than talk about your own business, website, products or services.

The resource box (author bio) is the place for you to talk about yourself and your business/website.
Which leads to one of the points on which I disagree with his blog post. While he certainly does not make the most common mistake of beginning the Resource Box with info about the writer, I do think his suggested Resource Box (RB) could have a better flow out of the article body. See some of my Resource Boxes at ArticlesbyJeff.com or get a Free Resource Box Template.
Another point I disagree with is the call for articles to be between 400 – 800 words in length. I recommend that once you pass 500 words you need to be thinking about creating another 2nd article. This gives you twice the bang for your buck, and helps you with rapid content creation.
All in all, a post worth checking out.
To use Steve Shaw's service that submits articles for you, go to SubmitYourArticleNow.com