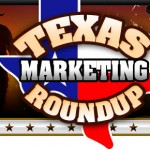 I know this is short notice, but I was just given Five Free Tickets ($997 value for each!) to the Texas Marketing Roundup in Dallas/Ft. Worth this weekend, April 1 -3!! Click here for details on the conference, and then…
All you have to do to claim your ticket is go to http://ExpertMarketingHelpDesk.com and let us know you want one, and our team will take it from there!
We'll be speaking there, along with other top trainers!
These will go fast, so got there now – first come, first serve – only 5 are available…
See you in Texas!
~ Jeff