Article Marketing and Content Creation allow to become a prolific content creator, even if you don't like to write.
What makes it even easier is creating 7 Tips Content. This is really the easiest system I know for making the profits roll in with the least amount of effort. Simple, yet powerful. That's one of my favorite things to teach you, simple and powerful strategies. So here are seven great benefits of seven tips content.
7 Great Benefits
1. Fast and easy to create. Make a list of seven tips, fill it out for good size article between 400 and 500 words. You're going to want about 60 to 70 words per tip. List your seven tips, give 60 to 70 words of explanation. There's your 400 to 500 words decent content.
2. Small space, big info. 400 to 500 words doesn't take up a whole lot of room, but you've got great information in there, big information in there, usable information in that piece of content.
3. It is easily consumed by- Click here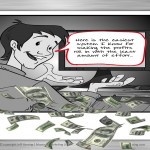 for the rest of the article!