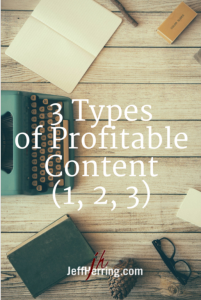 At Last! Content Marketing Made Simple (and the internet too)
Just read an article about the need to get rid of "gated content" – you know, content you have to opt-in to get.
The argument was all your content needs to be given away for free.
Like many of these "either/or arguments" online, the answer is not either/or, it's both.
Or in this case, all 3!
How's that again?
Relax, I'm here to explain below:
The 3 Types of Profitable Content You Need
My buddy Al Einstein once said:
"Everything should be made as simple as possible, but not simpler."
Well, here's content marketing, as simple as I can make it:
1) Free Content
This is the content you use to get noticed, get found, and attract prospects. Your goal here is to deliver just a slice of your expertise, an appetizer.
Some folks are afraid to do this because they fear "giving away the farm." Relax, you can't give away the farm with just a sample of content.
Here's a few suggestions for free content:
Articles (like this one)
Blog Post
Videos
Graphic Tile
Info-Graphic
Facebook Live Cast
2) Gated Content
Gated content is content that resides behind a "gate" – in most cases it's content you opt-in for – trading your email address for something you want.
Here are a few examples of what content could lie beyond the gate:
Templates
Ebook
Webinar
Teleseminar
Video Training
Checklist
Resource Guide

3) Fee Content
Here's how you profit with your content. Turn your expertise into information "how to" products that you sell.
Here are just a few of the many ways you can do it:
Ebook
Online Course
Software
Video Training
Kindle Book
Workshop
One really cool thing about this model is when you are creating your "free" content, you are creating the seeds for your "fee" content too.
So now how would you like 21 great content creation ideas?
Then you're invited to click the "Get your 21 content creation ideas!" button below:


And when you're ready to get cranking with consistent content creation, you'll want to grab the Custom Content Wizard – push button access to 21 content creation templates and more!